Delta Circuits provides a complete one-source solution to your manufacturing requirements through our comprehensive... changing demands of the electronic industries latest technologies.
RF (Radio Frequency Boards)
Top to Bottom Alignment .0005" Same Layers
Etching ±.0005" (1/2 Oz. Copper)
.001" Spacing
Measuring Capability for Coupling, Filters, Impendance, Differential Pair measurements in house
Mix Dielectric Multilayer
Highly Thermally Conductive Materials
Cavity under Power transistor launch area for RF Ground and edge plating
Selective Plating
Selective Edge Plating
Conductive Thermal or Electrical Adhesive
2-5 mil Thickness Conductive adhesive
Selectively Applied Adhesive
Pre cut or Pre Forms
Post and Pre fab after attachment
Vertical Machining Center Capability
DC Resistance measurement Capability
Temperature range from 165 deg C- 290 deg C Solder.
Selectively Specified area to be attached.
Complex Board connection with metal carrier.
Metal Coins at power transistor area.
Metal back board attached to base plate.
High Count Layers Ceramic filled Multilayer Boards (Certified MIL-PRF-55110,Type 3)
36 Layers Ceramic filled multilayer
Homogeneous Prepreg
Precise Layer to Layer Registration
X-ray measurement Capability for layer movement and layer to layer registration.
24 Layers Teflon Fusion Bonding Capability (24" X 24")
Same Dielectric Constant and Material Properties since fusing the same material as core.
Good Control with material movement in X,Y & Z directions.
Pure FEP Bonding , Very low loss .0002
Excellent at high frequency
High Power RF Component Boards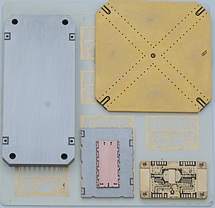 Up to 0.500" thick multilayer boards
Cavity to middle layer for RF Connection
Hole Castellation
Selective Edge plating for RF Grounding
Printed Antenna on Multilayer Boards
±.0005" Line Width Tolerances.
± .0005" Spacing Tolerances
Cavity mount for Circulators.
Single Side 36" X 100" largest Size board
Double and Multilayer largest board size 30" X 52"
Back Plane Layers up to 48
Largest board size 30" X 52"
Aspect Ratio of 18:1
Smallest Platted vias 1.9 mil (Laser or Mechanical drilling)
Via Filled with Non Conductive and Conductive Epoxy
Vial Plate and Shut.
Via in Pad with Caps
18:1 Aspect Ratio Panel to Drill(Pulse Plating Rectifier)
Blind, Buried vias and Blind/Buried Vias
Sequential Lamination
Depth Control drilling/Laser depth control 1:1 Ratio
Mix Dielectric: Combination of Teflon, Getek, Rogers Duroid 4350, Nelco 400, NL 2000, FR 406 & 408 & many more
Selective to pocket depth in layers for immediate RF ground for power transistor or metal slugs.
20 mil ball grid array
100% electrical testing with Flying Probe or Electrical Fixture.
With Via in Pad
With micro vias.
Electroless Nickel and Immersion Gold
Immersion Tin
HASL,OSP,Virgin Tin,Bare Copper
Wire Bondable Gold
Flex
Flex Multilayer
Rigid/Flex
0.002"- .005"
Critical Geometry
Single Side Antenna Boards
MEDICAL
AEROSPACE
COMPUTING